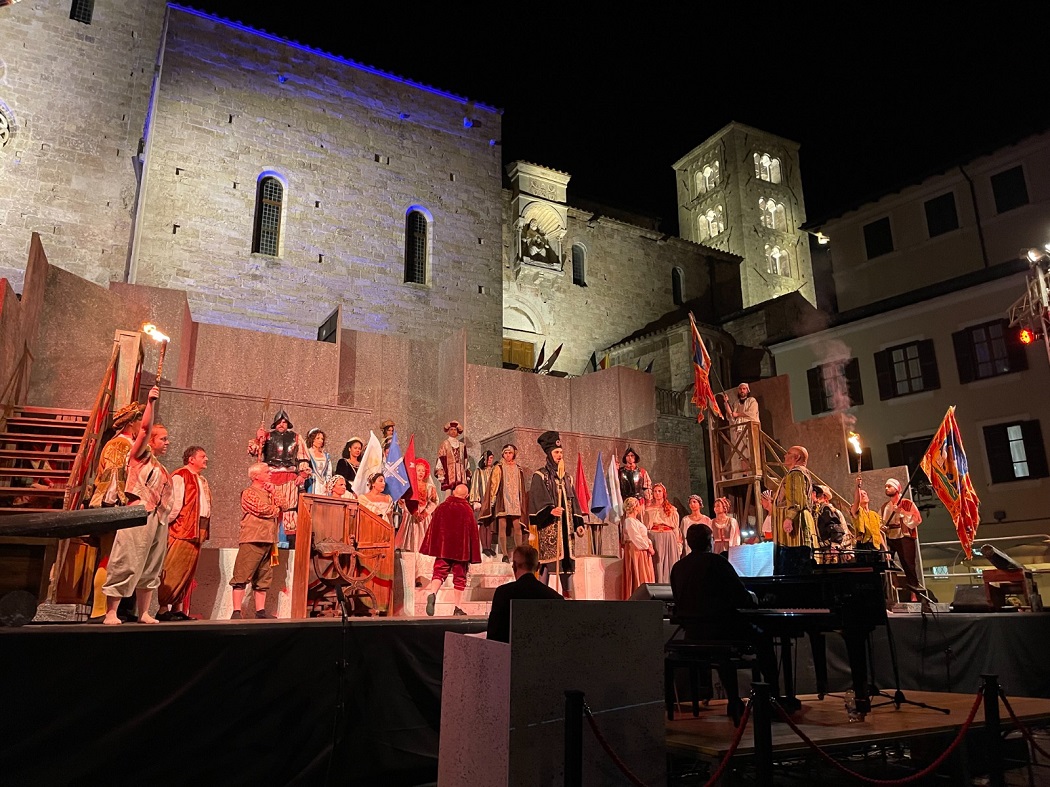 The final toast at the XXIX edition of the Anagni Medieval and Renaissance Theater Festival was as grand as the Otello.
The last show on the billboard concerned the great opera and Giuseppe Verdi's Otello was staged with an exceptional cast. Otello was interpreted by the tenor Gianluca Zampieri, Iago by the baritone Sergio Bologna and Desdemona by the soprano Francesca Romana Tiddi who received some open stage applause.
The voices and the choir were also enhanced by a game of scenography that saw two stages at the same time, the main stage and the nearby terrace of the Pro Loco di Anagni expertly lit by colored spotlights that created plays of light on the medieval stone facade.
In conclusion, Gaetano D'Onofrio thanked all those who contributed to the realization of this important theatrical review and dedicated words to the first edition of the Fuori Festival Anagni – Off Anagni Festival.
During this edition, we presented 5 wines, met producers from Anagni who told us about their interpretation of Cesanese del Piglio DOCG and Passerina del Frusinate IGP, we met wine bars and bars owner in the historic center of Anagni. All the exhibitors we spoke to show their interest in playing an active role in promoting the area.
During our evening presentation, mostly tourists who came from outside and who were curious to know the wine culture of the area stopped at our counters.
During the evenings we experimented with various formulas of interaction with the public and among the first data that emerged from the survey we must note that the Cesanese del Piglio, which we remember is the only red DOGC wine in Lazio region, is not well known outside the local borders.
The combination of theater culture and wine culture has been a success and in future editions we hope to experiment with other innovative formulas for the promotion of wine and the territory by starting a communication campaign many weeks in advance of the theatrical review.
A final thanks to the administration of Anagni who gave us space and technical assistance, in particular to the councillor Carlo Marino, to the artistic director Giacomo Zito who involved the theater companies in the promotion of the wines of Anagni, and to the Falamesca brothers who sponsored this edition of the Fuori Festival Anagni– Off Anagni Festival.