China and Italy have something curios in common, the art of enjoying good time with friends at bars.
Imagine a space where people gather at tables hanging around out of the sense of passing time. Whatever hustle and bustle are running outside, those lying-in bamboo chairs are just living their lives for the moment, with vapor swirling above those crowded cozy heads.
Inside this space, no hurry, and no worries. We called it "the teahouse".
The teahouse in China, especially in Chengdu, Sichuan province, is widely regarded as a symbol of booming cities in ancient times. For local generations, it's a traditional venue for leisure and socializing.
It's not surprising when you find people here are enjoying exactly the same activities as depicted in ancient books across the centuries.
You probably will assume with no doubt that the tea should be the protagonist in teahouses. But the fact is usually the opposite. On the list of "Things that Matter" in teahouses, before the tea, here come networks, atmosphere and many other factors concerning connections among people.
"You just sit, take a sip and chat with friends all day long." This is how customers, mostly senior men, would like to describe their days in those nameless teahouses spanning the whole city. You may also see them sitting inside crack melon seeds, play cards and Mahjong, or take ear-picking and massages.
The old teahouses we refer to today are actually those transforming from the beginning of modern Chinese history but the origin of local tea markets can be dated back to 2000 years ago.
It largely benefited from the ideal edaphic condition for planting tea in Sichuan Province. Tea has been everywhere in daily routines for thousands of years. No matter for dedicated taste or simply slacking thirst, tea is always the best choice, and the rise of the teahouse was to cater to these demands. It's not a pastime site for elites, but for the overwhelming majority.
People arrange casual gatherings at teahouses and retired residents stay there, even more typically, to kill time. There are chats, laughter and gossips, and the white noise is sometimes just right for a doze.
This mode of living is not so one-of-a-kind worldwide, and so do many Italian towns, to my knowledge. A difference is, in Italy on the table there could be cups of coffee, while in China inside the glasses is tea.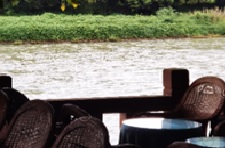 In recent times, teahouses in Chengdu are becoming a prosperous tourism hit. Some want to spot out of curiosity those otherworldly places of detachment from the rapidly developing city, while local regulars still keep coming to "take their time" as usual.

Just like it is said, teahouses are not serving tea, but a laid-back attitude to life.