Our Horse Museum Foundation made its galloping debut this week at the Cavalli a Roma event in Rome, which was held at the Fiera di Roma led by the splendid organization of the team responsible for Fieracavalli Verona. An important debut for us, which for the first time we came out to the world as a Foundation!
Four days of pure fun and surprises during the Cavalli a Roma event, which saw us among many other protagonists, from the 13th to 16th of February in the splendid pavillon dedicated to families, together with other operators professioals of the horse world (with horses and other real animals), all with the same goal: to bring the horse and its world closer to everyone's heart and to give children an unforgettable experience to discover the horse riding Discipline with a capital D.
We entered with this goal, and we went back home achieving much more.
For the occasion of the event we brought with us a program of activities, that ran in theme and content with our whole motto and mission: to make history, art and culture in all its forms, known and loved through the common passion of the horse and horse riding. 
During these days we met many schools, from kindergartens of nearby Fiumicino to Higher Institutes like Highschools and Horse Riding Schools from all over Italy, curious to learn more about the horse and learn more about its world, from the different breeds to the competitions.
Our toys and wooden horses have been really put to the test (but they manage to make it out safe and sound)!!
An unforgettable Valentine's Day!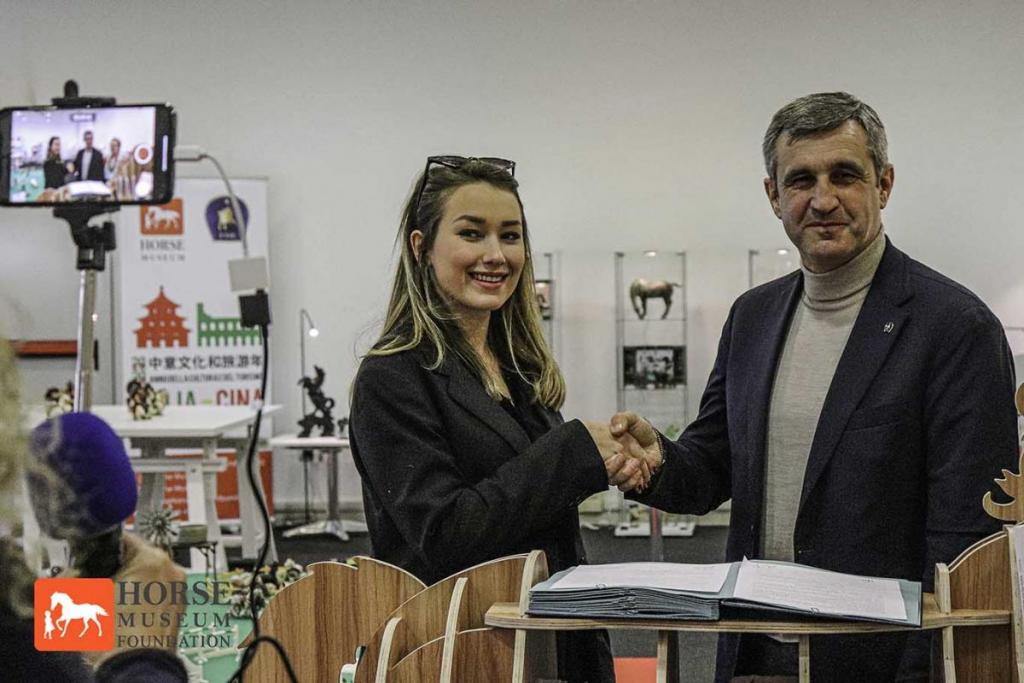 This Valentine's Day wasn't memorable just for lovers, but it was especially for all of us at Horse Museum. A "Pact of Understanding" signed by our President Maria Vittori with the President of FISE Marco di Paola.
A handshake that marks the beginning of a great collaboration and many projects in the pipeline, we can say a real "Pact of Love" between sport and art!
Horses made of clay, wood and...paper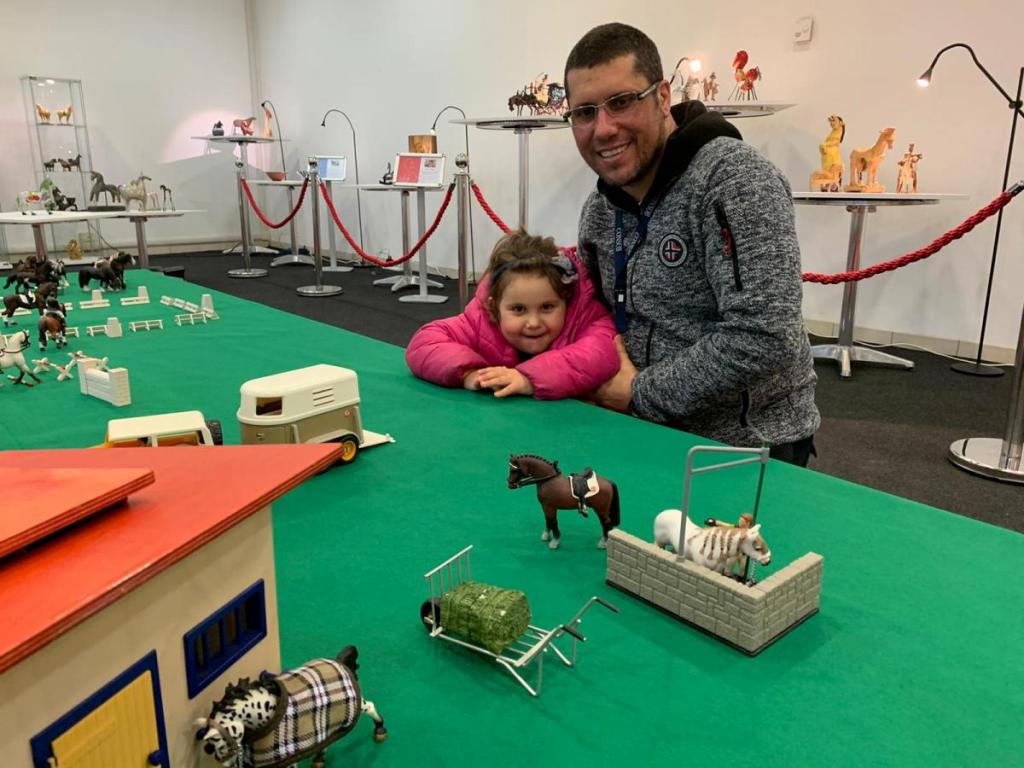 A series of events that saw the participation of some of our dearest friends and associations that over the years have collaborated with us, such as the Rocca Priora library, which brought a sequel to the children's workshop "Create your Horse", already tested during our exhibition "Freedom and the Horse ", inaugurated in December 2019 right in the town of Rocca Priora. During the workshop we also set up an "extemporaneous art exhibition" that was... a little more on the abstract side of things, made up of the drawings of our little fans.
The theme? Horses of course.
Oh and about art...
In these days, as scheduled, the San Giuseppe Arts Highschool of Grottaferrata came to visit us, together with our Horse Museum and the members of the FISE team, toured the fair in search of inspiration for their "Exhibition of Contemporary Art".
Drawing a horse is difficult, but creativity has no limits and these young boys and girls have been more than capable in doing so!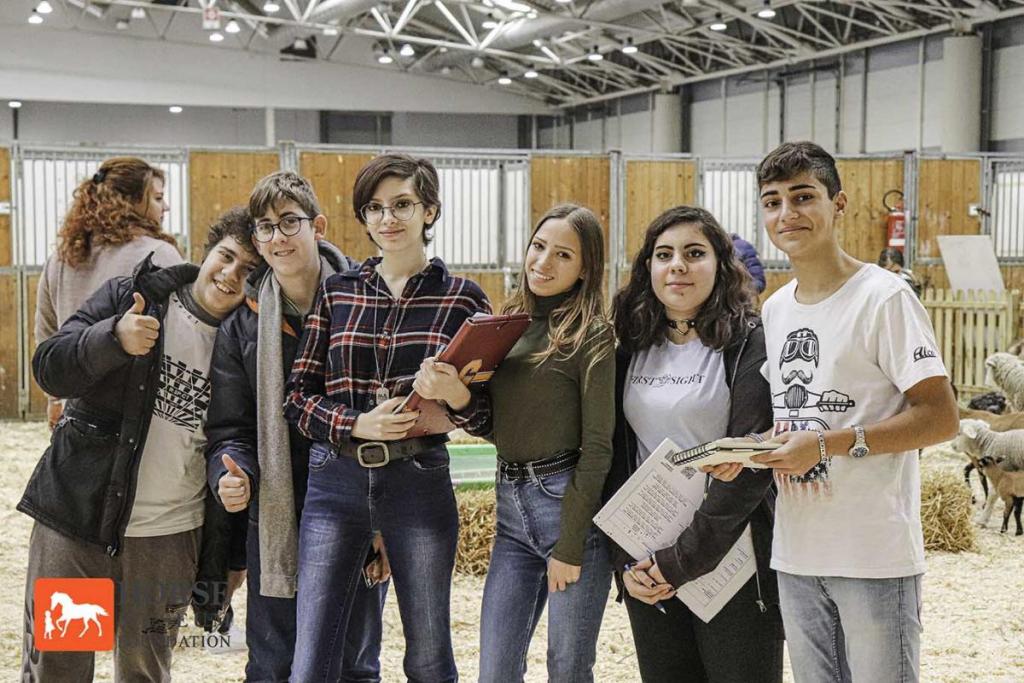 Their visit was also an opportunity to announce our FIRST ARTISTIC COMPETITION open to schools and to all those who have a passion for horses and want to represent them with any medium of their art.
You can download the form and details of the contest to participate, click this link (coming soon), and remember to follow us!
From Art to Pictures
The photographer Massimo Argenziano came to visit us, he donated to our Foundation his fantastic photos of the equestrian competitions. At the fair we also created a space dedicated to the 2022 World Championships in Eventing and Combined Competitive Driving inside the Federal Equestrian Riding Center of Pratoni del Vivaro, that showed his wonderful pictures as a tribute to horse riding competitions.
Together with him we made the ritual Prosecco toast, and we went to discover the meaning and stories behind some of his most memorable shots. A valuable lesson, especially for those who want to follow in their own passion of photographing horses.
And we will receive more photos from enthusiasts who came to visit us like the English lady who told us about a great festival celebrating horses that takes place in Burkina Faso and wich photos she will send us.
2020 a Year dedicated also to the Chinese Horse!
Arriving on Sunday we closed in style with a morning dedicated to the Chinese horse, to whom we set up an entire corner of the exhibition, where we gathered all our Oriental style horses and ponies.
We did it to honor 2020, which was declared the year of Tourism and Culture between Italy and China. A year that did not start very well, so we wanted to demonstrate despite everything all of our solidarity towards the Chinese people, who have been fighting a great evil in the recent months, not only for them but for the whole world.
For this reason, on Sunday we recorded a video in our Chinese exhibition space, together with Maria Vittori, Claudia Bettiol and with Bruno Grassetti, who received the Friendship Medal from the Chinese Government, and the President of F.I.S.E. Marco di Paola.
You can watch the interview/video by clicking
A video to wish a speedy recovery to our friends in China, Italy is with you, and your riders are always welcome in the Italian Equestrian Sports Federation, we are waiting for you!!
In recent months we have also begun to write and publish stories about China, horses, popular traditions and many other curiosities that you can see by clicking here, and in our China & Chinese Art section.
Four days of raw emotions that we will not easily forget, and that even now, as we dismantle our glass cases and signs, they buzz in our heads and fill us with energy for all of the planned projects that we are about to carry out.
We thank those who came to our exhibition to learn more about us, but also all those who helped us make this possible, from the staff of Veronafiere and Fieracavalli, to the associations and professionals who in recent years have followed us blindly in a dream that is finally becoming a reality.
Giuseppe L'Abbate, Undersecretary of State to the Ministry of Agricultural, Food and Forestry Policies, gave us a visit during the Fair. A greeting that we warmly welcomed and reciprocate!
So what can we say, let's start galloping towards new horizons !!