How many of you have played with a toy train?
Or you simply chased it with your eyes as it passed on a railway beside the road ...
How many then travelled by train and found that it could help us make friends, discover new situations ... or simply give time to read a newspaper or a book in peace?
How many more have found it to be a travelling companion in a book or in the cinema to share a moment of joy, passion, adventure or ...


And how many after all have thought of making it a museum for young and old to share not only a passion but to tell the story of a somewhat forgotten territory but with so many hidden treasures to discover ...?
Well ... this is the story I want to tell you.
It was the year 1960 and on Christmas morning, with my brother slightly older than me, we looked out into the room where Santa Claus (or whoever for him ...) must have done his homework and we remained open-mouthed.
On a beautiful wooden table, which seemed enormous to us, a train complete with locomotives, wagons, gallery, trees, station was showing itself off ... a dream!
It was an emotion that never left me.
Much more difficult moments followed those happy years, that train for various family and economic vicissitudes disappeared for many years, and until I started working, I never saw it again.
But it never left me, even in difficult moments it came back to me and made me smile and dream.
With a bit of economic autonomy, I approached the world of model railways and over time I started having fun building fantasy models trying to involve my three children, with limited success to tell the truth.
With my maturity and travelling for work between Europe and the Americas, I met various characters around the world with the same passion. But all this seemed reduced to a small circle of enthusiasts, with their liturgies and moments of meetings, but in the end with a somewhat limited and sometimes too exclusive horizon.
But then something happened that made me change my perspective in an unthinkable way
But let's take a small step back. Who among you knows Arce and the Valle del Liri?

From my experience very few outside the territory, but as in all the stories to find the moment of change…. chercez la femme!
Arce is my mother-in-law's hometown, where over the years with my wife and children we have also created a good retreat for us.
The undersigned, a Roman of culture and always involved for work with the world of multinationals, began to discover over the years a world made of nature, relationships built over time with trust, a thousand-year history covered however by the cumbersome presence of Rome and Naples that crush the territory like a poor sardine.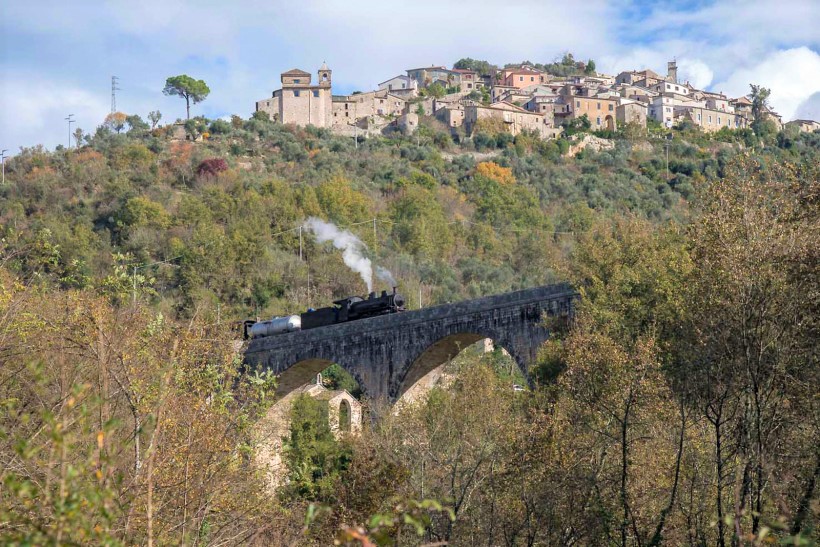 You will say ... but the train?

Well to accept the retreat to Arce on my part, I had the official authorization by my family to be able to dedicate a room to my passion and so I was finally able to build a model railway as I had desired for many years.
So a fairy tale with a happy ending? In reality, this is exactly where it all starts.
I realized that although theoretically happy I was missing something. What I had built was basically just for me or a few friends. It seemed to me that that child's dream had landed on something that was certainly well built but a little dry. I didn't find the strength that only sharing and passion can give.
One Sunday, it was November 2014, from my home in Arce I heard a whistle from a different train. From the window you can see the station and I saw a puff of smoke.
It was the commemorative train of the Roccasecca railway Arce-Avezzano which was celebrating the reopening of the line. And I didn't know it !!!

I understood that that was my new challenge: to combine the passion of the train with that of the territory and its railway. In a few months, with the help of some friends, we founded the Apassiferrati Association.
At that point we understood that it was necessary to create a strong aggregation point that would be an easily identifiable symbol from the outside and that immediately represented the mixture of Territory, Railway and Culture that could give substance to the project.
The idea was to create a Museum of the Trains of the Valle del Liri, but on new foundations: not only a collection of memorabilia for professionals, but something alive that would tell a story of two hundred years with easy-to-reach language.
Thanks to Dario di Palma, councillor of the municipality, we talked about it with the Mayor Roberto Simonelli and during a meeting in a cafe the idea pleased them and the mayor proposed for me to make the museum in a space of a Municipality building that was in disuse.
It was a great challenge, clearly with private capital, but the elements seemed the right ones to carry out the project.
At this point with Apassiferrati's friends we defined a plan on 4 areas of activity:


construction of the museum
editorial with the first book by the historian Constantine Jadecola (today translated into 5 languages)
communication in Italy and abroad (Madrid, Strasbourg, Nuremberg, Lisbon, Caldas da Rainha)
realisation of events such as historic steam trains.


We immediately made an agreement with the University of Cassino to activate research and studies on the territory and the railway and we managed to inaugurate the Museum on 30 September 2017. It gave me a thrill to rediscover a historical event related to the visit of Pope Pius IX in 1863 to the territory of Frosinone on the extraordinary delegation train.
And if we look at the history of our railway, we see how even in the terrible moments of the 1915 earthquake or the tragedy of the war, it has always known how to find its way back to life by placing itself alongside its people as a reference and a sign of hope.
With this hope, we continue this long journey, which began that Christmas morning 60 years ago, with the same enchanted eyes of the children who come to find us and who give us the strength to continue.
See you soon then!